THE CYRIL FLINT BEFRIENDING SERVICE
WHAT IS BEFRIENDING
Cyril Flint is an established Befriending service that currently covers Greater Manchester. We rely on Volunteers to spend an hour a week to visit a person (usually in their own home) befriending a person on a regular one-to-one basis. This may be someone who lives alone who has little or no contact from friends and family with limited community support. Knowing someone is popping in once a week can make a huge difference.
Befriending is a distinct type of support which is different from the practical or functional day to day support provided by the statutory services or other paid workers, who are under a professional obligation.
Our volunteers will pop round, maybe for a brew and a chat and just like a true friend will always take time to listen to you and share life's ups and downs. You may find that as your friendship grows your confidence returns and your volunteer may be able to help you to get out and about in the community. We have seen some fabulous and long term friendship's develop and flourish!
Below we have listed details of the befriending service Cyril Flint offers in and around the Greater Manchester area. If you have any questions whatsoever, please do not hesitate to contact us via our befriending form.
WHAT CAN SOMEONE EXPECT FROM A BEFRIENDER?

Our volunteers commit to visiting once a week for an hour or so. The befriender provides friendly conversation and companionship on a regular basis over a long period of time.

As our befrienders often work and have their own busy lives the time and day they visit may alter from time to time. As your relationship grows you will go on to make your own arrangements to suit yourselves, just like any friendship.
All our volunteers are Enhanced DBS checked. DBS checks are complete criminal history checks, and are a mandatory screening process for positions involving work with children and vulnerable adults, to ensure that anyone who presents a known risk to vulnerable groups is prevented from working with them.
As long as they are able to, your specific volunteer will always be the one who visits you.
All our volunteers are given training that covers age related concerns which helps build their knowledge and empathy. You can be assured they will treat you with dignity and respect.
As soon as possible after your referral is received, a member of staff from the Cyril Flint Team will come out to complete a Befriending Assessment Form with you. This will give you chance to have a chat with us about the service and give us the opportunity to get to know you.
You will then be carefully matched with a befriender. We try to match shared interests, likes/dislikes and beliefs wherever possible. A member of the Team at Cyril Flint will be present on the first introduction meeting with you and the Volunteer. By trying to find something in common we can ensure the relationship has the best possible chance of success. If you would prefer a befriender of the same sex please let us know.
Our befriender's are people from a variety of different ages, cultures and backgrounds.
Our befriending service is free. We are a registered charity and rely on donations to keep the charity going.
WHAT NEXT
After you have checked the "what our volunteers don't do", if you think our scheme can help, you can refer yourself using the form below or through another route such as a family member, social worker or health worker.  After your referral form is received, you will be visited by the co-ordinator and an assessment is made and our service is discussed. Due to demand for our service it is likely you will be placed on our waiting list – this is addressed in order of date referral received and the level of support and interaction the person already has in place. As soon as possible we will match you with a volunteer who will visit you regularly in your own home.
PLEASE COMPLETE THE BELOW FORM AND SOMEONE WILL BE IN TOUCH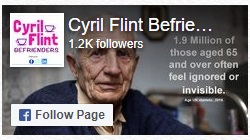 Befriending
Community
Donations
Events
Fundraising
Health
Manchester
Supported Volunteering
Uncategorised
Volunteering
Wellbeing